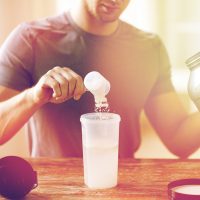 Flavour your average-tasting protein shake without adding calories
So you believe in the wonderful benefits of supplementing with protein shakes, but are just so incredibly bored of the flavours on offer. The great news is that Flavour Nation flavouring is the perfect weapon to combat flavour bordem… without adding any calories!
How to flavour your protein shake using Flavour Nation flavouring
What you'll need
1 x Flavour Nation flavouring
1 x Protein shake of choice
Method
Simply add 10 drops of Flavour Nation flavouring to approximately 250 ml of your already mixed-up protein shake; then shake it up once more, and enjoy. It's that easy.
The best flavours for adding to VANILLA protein shakes
Choc Mint Crisp
Banana
Turkish Delight
Bubblegum
Apple Crumble
Caramel Popcorn
Hazelnut
Peanut butter
Orange
Naartjie
Mixed berries
Lime
Passion fruit
Peach
Pineapple
Lemonade
The best flavours for adding to CHOCOLATE protein shakes
Choc Mint Crisp
Turkish Delight
Caramel Popcorn
Hazelnut
Peanut butter
Orange
Lime
Passion fruit
The best flavours for adding to STRAWBERRY protein shakes