A simple sponge has not always been so… simple. Well, not until a certain fool-proof recipe popped up…
Cue Katie Shangase (née Russell) of Cake It up Cakes and Jo'burg based baker-extraordinaire. Katie has caused quite the stir (see what we did there) with her Vanilla Sponge Recipe on the South African Sugar Craft Facebook group and we had to give it a go and share with you.
Get your beaters, spoons, pans and Flavour Nation ready, this one's a goodie: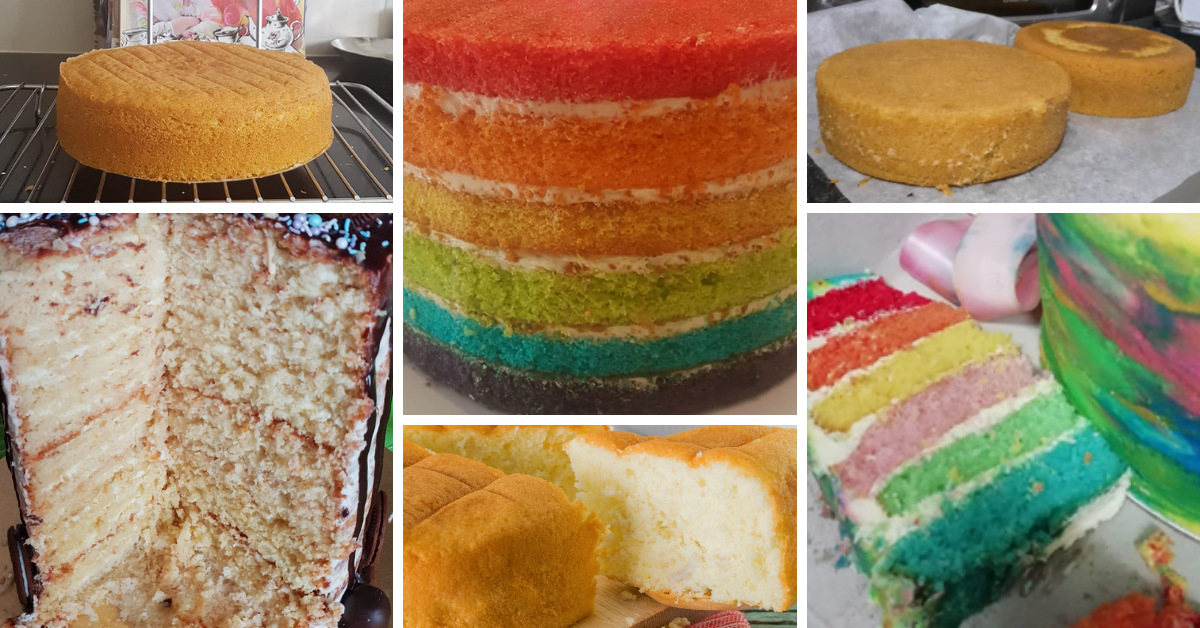 Equipment
Mixer

Mixing bowl

Sieve

Baking tin

Kitchen scale
Ingredients
4

large eggs

200

g

sugar

125

ml

oil

125

ml

boiling water

200

g

flour

20

g

baking powder

2.5

ml

vanilla flavouring

(we use Flavour Nation Vanilla, duh! He he!)
Instructions
Whisk the eggs and sugar until light in colour and full of volume.

Sift and add the dry ingredients; flour and baking powder.

Fold in, and pour into a baking tin.

Bake at 180 degrees for +- 25 minutes. This really depends on the cake and the oven, so keep an eye on it.
Notes
**If you want this to be perfect, then weigh your ingredients as cups are not accurate.
It's that easy!
Level-up your perfect sponge by adding drops of your favourite Flavour Nation flavour! Tell us your tried and tested Flavour Nation recipes by tagging us on Instagram or Facebook.
Before tackling this recipe, take a look at these hot tips from Katie:
Katie advises, "You can't over-mix whole eggs and sugar so whisk that mix really well! Don't be scared. Normally I put it on while I weigh and prepare all the other ingredients. Hot water means boiling, from a kettle, not a tap. This helps the cake bake faster as you are activating the baking powder immediately.
Don't over-mix once you add the dry ingredients, you can even fold in the flour if you feel confident doing so. You want to keep all that lovely air we whipped into the eggs but you don't want pockets of flour everywhere.
Don't open the oven! Even to peak! This cake will sink if you disturb it while baking, be confident in the fact that it's doing its thing in the oven happily and check on it once the time is up. If it needs an extra few mins, it won't be affected that close to the end of baking.
Lastly, try not to eat all of the sponge immediately! Keep some for friends, family and even the order you may be baking for."
Katie on storing the sponge: "It's always best to use the cake fresh. But it can be stored at room temperature if wrapped well. The sponge can be frozen and defrosted overnight in the fridge. Just storing in the fridge causes it to dry out so I would not recommend that."
Awesome alternatives that you should definitely try:
Barbara Boucher of South African Sugar Craft tried this alternative: "I used hot water and added a teaspoon of coffee and Flavour Nation's English Toffee and made the chocolate version. Oh, my soul, it was divine."
For a delicious chocolate option, substitute one-quarter of the flour with cocoa powder. Don't forget to sift 😉
Want to use the batter for cupcakes? It makes 24 perfect cupcakes and Katie Russell suggests to bake them for 12 minutes.
Can you double up the recipe? Katie says, "Yes! It multiplies very well, just make sure you multiply all the ingredients and follow the same steps."
Want to make a gluten-free version? Katie recommends going for coconut or gluten-free flour from Woolworths or Dis-Chem, as almond flour is quite heavy. The coconut and gluten-free alternatives are closer to normal flour.
Oops!
If your cake is moving away from the sides a lot then chances are it's overbaked. Katie says 'It should pull away when done. If it pulls away a lot it was slightly overbaked. Your oven may be slightly hot, get an in-oven thermometer so you can get the temp as accurate as possible.'
Follow Flavour Nation for more baking tips and tricks!
Thanks to these amazing bakers, who used this recipe, and whose pics we've used above in our cover pic.
Delia Charles (click here to see original post)
Katie Shangase (née Russell!) (click here to see original post)
Marisa Laas (click here to see original post)
Nazleah Khan (click here to see original post)
Nazreen Davids (click here to see original post)