A favourite amongst bakers, Swiss Meringue Buttercream, is a smooth icing sensation that works on almost every cake. And if you get it right, you can't go wrong with this frosting of choice.
Lindsay McEwan of Lullubellesbakes says she loves Swiss Meringue Buttercream and it's seen as the best velvety smooth buttercream in the cake world. "It's created in a Bain Marie where egg whites and sugar are stirred over low heat. But I normally do it in my Kitchen Aid bowl over a pot of water."
Here's a tried and tested recipe that we can't get enough of.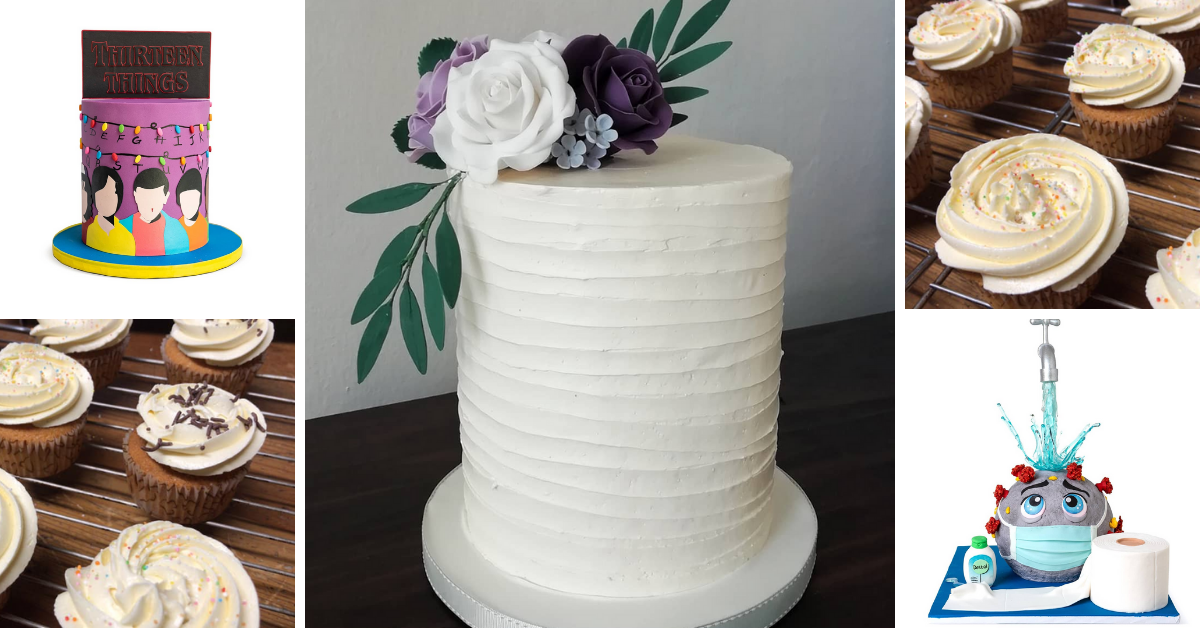 Ingredients
10

large

Fresh egg whites

(300g)

2 1/2

cups

Sugar

(500g)

3

cups

Unsalted butter, cut into cubes, and cool, but not cold

(680g)

1

tablespoon

Flavour Nation

(10ml)

1

pinch

Salt
Instructions
Stir egg whites and sugar in a double boiler until all the sugar has dissolved (approximately 65 degrees).

Whisk with a balloon whisk in a stand mixer until the meringue (not the bowl) is cool to the touch/room temperature.

Slowly, add the butter, bit by bit, on a medium to high speed.

Once all your butter is added, beat for 5-10 minutes, on medium to high speed to get that smooth and creamy buttercream.
Notes
Katie Russell, expert baker, and queen of the foolproof sponge has given us some advice on how to make sure your Swiss Meringue Buttercream (SMBC) is a success: "The two most important things in SMBC are the ratio and the temperature. Make sure to find a recipe where your ingredients are all in grams, this ensures the ratio is always correct and you will get the perfect buttercream. I like to use Woolworth's liquid egg whites as this helps with weighing as well as cutting down on wastage.
When heating your egg whites and sugar, make sure to heat evenly and constantly whisk but most importantly, take the temperature with a thermometer. This ensures that the eggs are cooked enough to be food-safe (anything above 65 degrees Celsius) as well as the volume of your meringue. Whip it until its thick, glossy and cool to the touch (the actual meringue not the bowl). Also don't whisk too quickly, ideally whisk on a medium speed to create small bubbles in your meringue and it will be glorious!"
Samantha Liang of Samantha Liang Cake Artistry adds:
"Use the best quality ingredients you can afford and always use room temperature eggs and butter. Place a tea towel dipped in cool water under your mixing bowl to help your meringue cool down faster before adding your butter. It is very important for your meringue mixture to be room temp before adding your soft butter.
About halfway through adding your butter to the meringue it will look like your mixture has split. Do not stop mixing or adding butter. All will be okay. It will come together into a smooth glossy buttercream.
Swiss Meringue Buttercream will never be completely white so it is advisable to consult your client about the slight yellow tint. Also, keep in mind that blue and green food colouring will respond differently to the yellow in your buttercream.
Store in an airtight container in the fridge for no longer than 48 hours or freeze for up to 1 month."
Delicious additions:
Add in 125g melted white chocolate to kick it up a notch. Or go that extra level and add a few drops of Flavour Nation for the ultimate Swiss Meringue Buttercream that will leave tastebuds tingling and tongues wagging.
Let's talk butter:
Most recipes call for unsalted butter but it's not a train smash if you use salted, just omit the pinch of salt in the recipe. And the debates still on whether or not you can use margarine. Many bakers on the South African Sugar Craft Facebook group have tried half butter and half margarine (Stork seems to be the preference) and the results have been good! Rose Cardoso-Lines said she has used White Wooden Spoon, came out perfect and used Flavour Nation for taste.
Waste not:
The ladies of South African Sugar Craft have some crafty ways to put those leftover egg yolks to use (if you use fresh eggs and not the Woolworths liquid whites).
Some suggestions are to make; Pasties de Nata (yum!!), Crème Brulee, crème pat or lemon curd.
Thanks to Ashiya Steenkamp and Katie Russell from South African Sugar Craft group for the recipe.
Follow Flavour Nation for more baking tips and tricks!
Thanks to these amazing bakers, who used this recipe, and whose pics we've used above in our cover pic.
Daleen van Zyl (click here to see original post)
Lynne Fitzgibbon Glass (click here and here to see original posts)
Samantha Liang (click here to see original post)